Shahid Kapoor and Mira Kapoor have been blissfully married for over five years now and proud parents to Misha and Zain Kapoor. The couple tied the know back in 2015 in the month of July, 7.
Shahid has been very vocal about the relationship, talking about the "moment' he was hit by a cupid's arrow, he said: "I'm still falling in love with her.. a bit more every day. The first day we met, we spoke for seven hours. We were at a friend's farmhouse in Delhi. We went for a walk outside and the sun was setting behind her. I realized her eyes were not dark, they had a hazel tinge. That moment, I Felt shyad main iss ladki se shaadi kar sakta hoon. But I also told myself, "What are you thinking? Bees sall ki hai besharam"
The couple has been addressed with their age-difference again and again. In an interview, the couple was asked the same question – Mira took the high stand and said "although she doesn't think of it, she admitted that Shahid has lived longer than her, so if anything, she can benefit from his experience."
Mira Kapoor shared the image on Social Media Platform Instagram with the caption:
5 years, 4 souls, 3 homes, 2 babies and 1 beautiful family ♥ There's nobody I'd rather be on this journey called life than you my love. I fall in love with you more every day. And I'm the luckiest girl in the worst to have the love of my life be my best friend. Thank You for everything, for being my strength and for walking through everything together, hand in hand. I love You ♥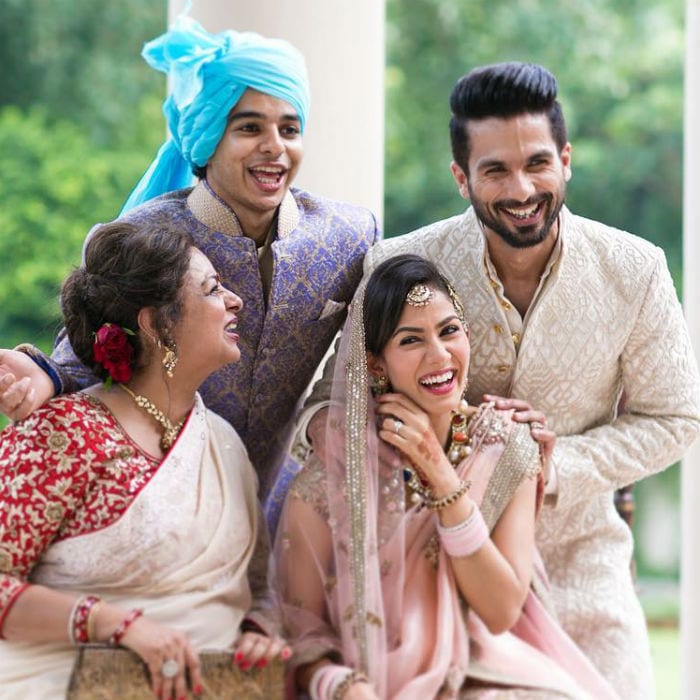 Shahid shared the image on the occasion of their first Marriage Anniversary.
Mira Kapoor was 21 at the time of the marriage, but this doesn't bother the powerful couple at all.
Shahid said in an interview that like every couple they also have fights, once in every couple of months.
Mira Kapoor is an avid social media user and often shares images with kids and family.
Mira Kapoor also takes interest in his scripts and also gives him advice.