Carry roast karta hai, Carry bohot zor se roast karta hai, or Carry roast karega."
Carryminati is the new sensation of the town right now, after his video The End: Youtube vs TikTok.
Carry tweeted the link of his new video titled YALGAAR: Humari Kahani on Sunday night and the video has gone viral. The 1:43 minute-long teaser shows the timeline of what happened after the video was uploaded on YouTube.
Carry's new video's teaser has got an amazing response from his fans and the video is now at #1 trending on trending section. It has over 17 million views and almost 4M likes.
YALGAAR…. COMING SOONhttps://t.co/hbFt2ScLH5

— Ajey Nagar (@CarryMinati) May 24, 2020
Fans have been extremely excited to listen to what Carryminati has to say about it.
This will probably be another roast video by the YouTuber, more probably an angry roast over his deleted video.
Before the video was deleted it broke many records, most liked video in India and the channel is about to reach 20Million subscribers.
Carry's last video was taken down due to a violation of Youtube's policy on harassment and bullying.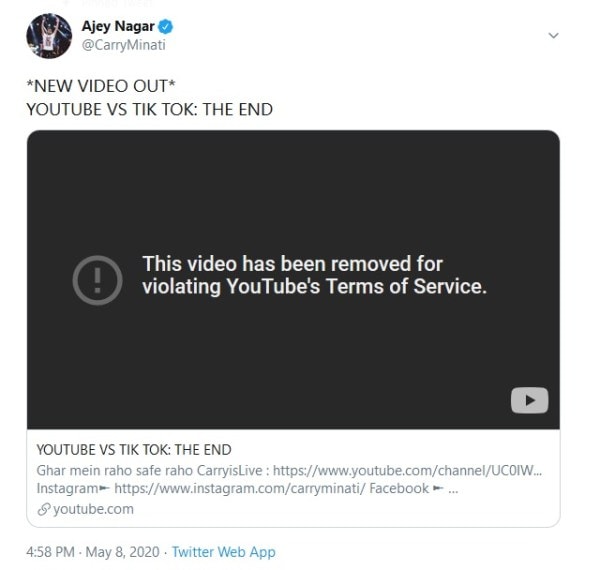 After the video got deleted Carry received support from his fellow YouTubers.
I know people, this is very disappointing and a shocker.#justiceforcarry

— Ashish Chanchlani (@ashchanchlani) May 14, 2020
It was just a fun roast, @CarryMinati. Everything else aside, I'm rooting for you. Keep the good content coming in buddy 👍⚡🔥 #carryminati #carryminatiroast

— Himansh Kohli (@himanshkohli) May 14, 2020
Whole YouTube and memer community coming together for #carryminati #justiceForCarry pic.twitter.com/yhnTiMAuPU

— Anand Shukla (@MeAmAnand) May 14, 2020
The battle between Youtubers and Tiktokers began when Amir Siddiqui posted a video saying that he and he fellow community members can do better if they come on their platform.
In order to answer his fans' question, Carry has recently uploaded his new video which seems to be the teaser of what's upcoming. Some are speculating that what is about to come will be more entertaining than the last video.
Carryminati releases emotional video after his video was taken down, shares his side of the story.