TikTok vs Youtube – Few words exchanged between YouTuber CarryMinati and TikToker Amir Siddiqui have escalated to a fan fight which has been going on for the past several months, however, after Carryminati released the video titled "YOUTUBE VS TIKTOK: The End the battle sparked into something unpleasant.
Tiktokers and YouTubers have been battling over the platforms to show who is better. Tiktok users believe that if they come to youtube they can do better content than YouTubers and run them out of business. Whereas Youtubers have roasted them because of the cringe content.
After the recent video of Carryminati more and more YouTubers have started to make roasting videos on TikTok. The video, however, broke many records in few days of its release.
The video was uploaded on May 8.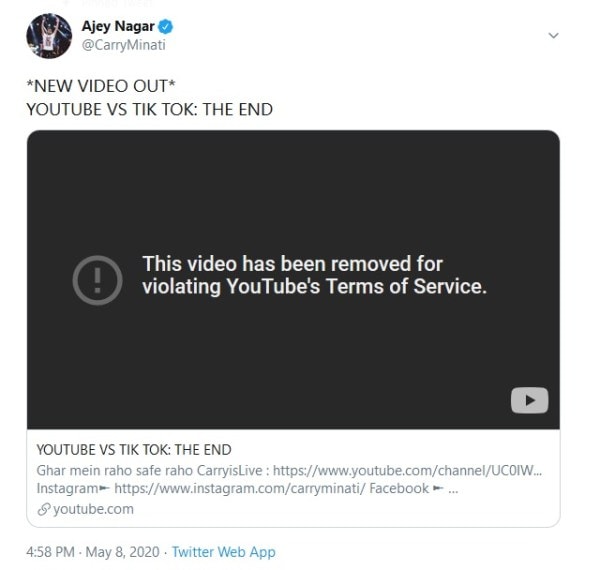 CarryMinati, who is well known for his roasting videos took Amir Siddiqui's video to roast this time. The video was very well-liked by his fans and as a result, CarryMinati gained over 2 million followers and the video had more than 7 million likes, which was on it's own a personal record.
Tiktok user Amir Siddiqui posted a video where he tagged you tubers such as CarryMinati, SaimanSays and many more.
CarryMinati responded hilariously and dissected Siddiqui's video line by line, from his grammar slip-ups "youtubesss," "sportingly" to his hashtag(#skirt) to increase impressions.
Why CarryMinati's Video was pulled Down?
Carryminati's video was pulled down supposedly after being reported for harassment and cyberbullying by fans. A hashtag on the side of CarryMinati-#justiceforcarry has been drifting on Twitter from today morning. Fans have been demonstrating their disappointment over the deletion of his video. Be that as it may, a segment of individuals has gotten out the famous YouTuber for his unforgiving remarks and bolstered YouTube's choice.
Popular you tubers have come in support for Carryminati over the deletion of his new viral video.
I know people, this is very disappointing and a shocker.#justiceforcarry

— Ashish Chanchlani (@ashchanchlani) May 14, 2020
It was just a fun roast, @CarryMinati. Everything else aside, I'm rooting for you. Keep the good content coming in buddy 👍⚡🔥 #carryminati #carryminatiroast

— Himansh Kohli (@himanshkohli) May 14, 2020
Pehle chori upar se seenajori.#justiceforcarry

— Harsh SOGGY beniwal (@iamharshbeniwal) May 14, 2020
Whole YouTube and memer community coming together for #carryminati #justiceForCarry pic.twitter.com/yhnTiMAuPU

— Anand Shukla (@MeAmAnand) May 14, 2020
According to YouTube's policy page, "It's not ok to post abusive videos and comments on YouTube. If harassment crosses the line into a malicious attack it can be reported and may be removed."
"Content that threatens individuals is not allowed on YouTube. We also do not allow content that targets an individual with prolonged or malicious insults based on intrinsic attributes, including their protected group status or physical traits."
So Carry roasted a tiktoker for warning youtubers and YouTube decided to take down Carry's video!!
That's like slapping your own family member for defending your ass from outsiders!!
Shame on @YouTubeIndia#shameonyoutube #carryminati #justiceforcarry pic.twitter.com/GGBch99vBd

— Deshi Batman (@deshi_batman) May 15, 2020
Now that you've read Youtubers supporting carryminati, read about What happened after a weirdo asked Babita Ji "Ek raat ka kitna?"